sentida nursing beds now available in hotel design
Upholstered beds for well-being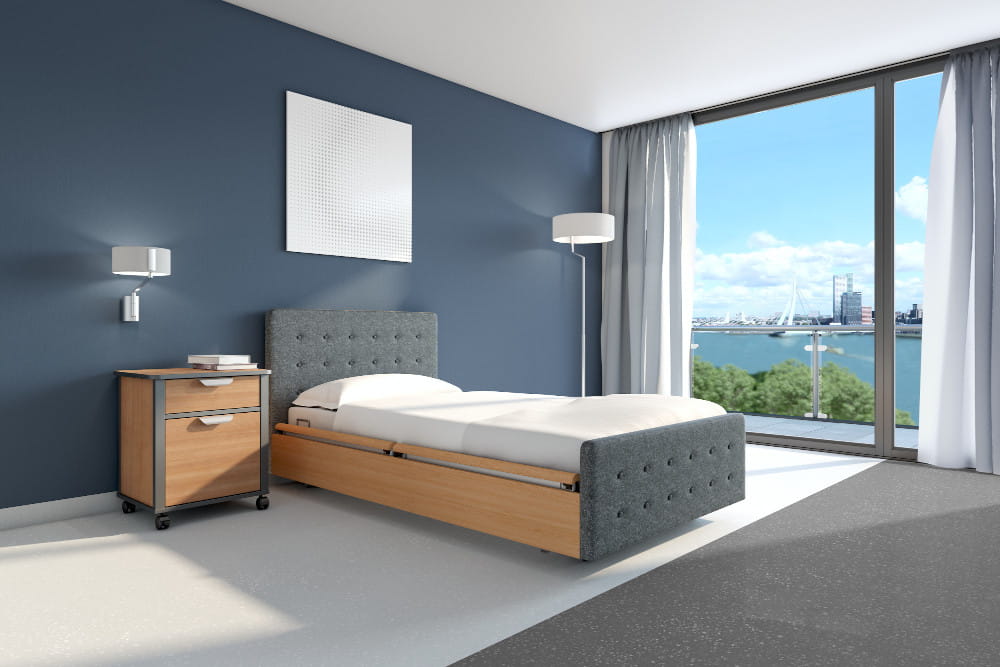 The successful sentida series of low nursing beds has been available since this year with upholstery made of fabric and high-quality imitation leather. This opens up completely new possibilities and a multitude of options in the interior design of nursing rooms.
Our home is the place where we feel safe and secure. This makes it all the more difficult for many of our older fellow human beings to have to leave this home because health and social care can no longer be guaranteed. And all the greater is the challenge that the care facilities must face. For many years, wissner-bosserhoff has accompanied operators of care facilities in the conception, planning and implementation of furnishing solutions that turn the home into a home. The Wickede company sees itself as a trendsetter in terms of design and functionality. The nursing beds offer homely design, high functionality, ergonomics and pleasant operability.
New upholstered bed collection
With the new upholstered beds made of high-quality materials from renowned partners wissner-bosserhoff offers an excellent surface material which opens up an enormous variety of applications in the interior design of high-quality residential and commercial areas, especially in the medical sector. Perfectly coordinated collections and innovations allow upholstery solutions, furniture fronts and floor panels of all kinds to merge into a single unit. Above all, they score with durability, stand for genuine quality and thus also convince internationally.
The special feel, special properties and expressive embossing lend high-quality upholstery materials their individual character. In addition to unusual designs, surfaces are characterised by their ease of care. Synthetic leather made of PVC plastic scores above all with durability and thus stands for genuine quality. The fabric decors present themselves unrivalled clean and cultivated. The patented, innovative fabrics leave bacteria, dirt and moisture no chance. Beautiful designs on first-class fabric qualities offer extensive combination possibilities between upholstery and decorative fabrics. Branded yarns made of polyester FR or Trevira CS are used here.
Numerous possible combinations
The customer has the choice between 19 different fabric or imitation leather designs and can choose these in 3 different processing optics. In addition, the care beds can be accentuated with 11 wood decors. The standard version already offers a choice of over 5,000 variants. This enables numerous attractive living concepts that stand for an active healing environment.

The concept "Country" is based on the English country house style
Together with interior designers, wissner-bosserhoff has created various living concepts for its sales documents. For example, there is the proposal "Forest", with its rich green and brown tones reminiscent of a walk in the forest, the concept "Country", which is based on the English country house style or the "Urban" range, which blends perfectly into a lively, urban environment.
Low nursing beds sentida
With the low nursing home beds from the sentida series, wissner-bosserhoff is a consistent and, above all, uncompromising implementation of the demands placed on a contemporary care successful: Maximum safety in combination with a homely design. Innovative solutions such as the unique 3-stop strategy and the patented SafeFree®-Side guard concept reduces falls and their consequences and sets standards in in terms of safety, mobility, height adjustability and comfort.
The SafeFree® split side guard system is patented, voluntarily certified and the technology has been tried and tested more than 1 million times in practice. It can be lowered comfortably, quickly and space-savingly in just 2 seconds and can be individually adjusted in 4 height levels depending on the care situation and resident size. Maintaining freedom instead of depriving it of it, in the spirit of the Werdenfelser Weg.
Learn more about hotel-design nursing beds