Bed exercises - Fit with Johanna Quaas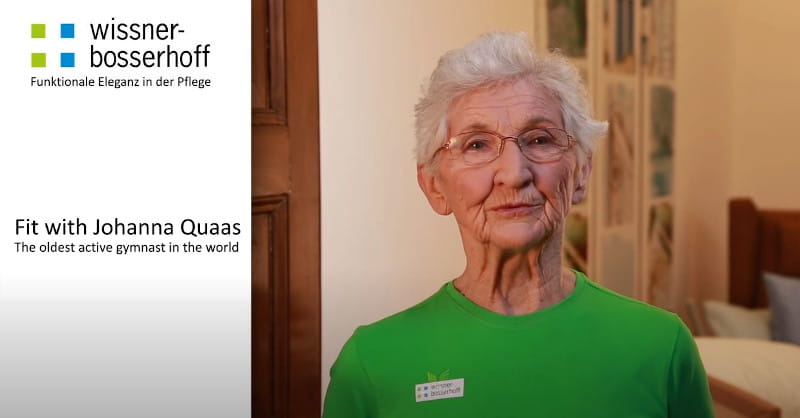 Seniors in particular benefit from gymnastics. But at the moment it is difficult to participate in fitness courses. The oldest gymnast in the world, Johanna Quaas (born in 1925), presents therefore on this site weekly new gymnastic exercises that you can already do in bed in the morning to start the day fit and mobile. These bed exercises can be a gentle way for senior citizens at home or in nursing homes to build muscles, maintain or increase mobility and keep fit. Many exercises can be performed without any aids, for others you only need a Thera-band:
Exercise 8: Stretches for the arms and legs
Exercise 7: Leg exercises
Exercise 6: Shoulder exercises
Exercise 5: Tummy and leg exercises
Exercise 4: Thera-Band exercises for the legs
Exercise 3: Pelvis and hip exercises
Exercise 2: Thera-Band exercises for the arms and lower back:
Exercise 1: Abdomen, legs, buttocks:
Johanna Quaas is a German gymnast She is the oldest competition gymnast in the world. Quaas became known in 2012 through several YouTube videos, which showed her during performances at the Tournament of Champions in the Cottbus Lausitz-Arena. The videos developed into viral clips and reached several million views within a very short time, followed by numerous television and newspaper reports in German and international media, including reports on the American television stations NBC and ABC as well as a performance on Gottschalk Live. Numerous Chinese newspapers also reported on the German gymnast.