Enhanced Patient Safety with Reduced Ligature Risk: Collaboration with Leverndale Hospital
wissner bosserhoff and the LINET UK team collaborate with NHS Greater Glasgow and Cylde for an advanced profiling bed solution that meets the needs of mental health patients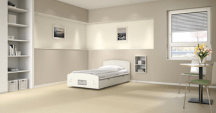 We recently embarked on a special project for a trust undergoing challenges when looking for a suitable profiling bed that could be used in their service to care for individuals with complex mental health needs.
No other supplier had been able to volunteer a suitable product or listen to required changes to have a safe solution to meet the needs of both the patients and the staff. With nothing readily available on the market the wissner bosserhoff and LINET UK team offered to help and apply their expertise by adapting an existing psychiatric bed within their current portfolio to the specification of the specialist team fully reviewing and evaluating a new viable solution.
The result - Enhanced patient safety with a reduced ligature risk. Known as Sentida 4p with Special Options, the Sentida Leverndale profiling beds is a proven design readily available for other care providers who require a specially adapted solution with evaluation and adoption of the equipment taking place across other locations in the UK.
Wissner bosserhoff understand the critical importance of creating a safe and therapeutic environment for patients undergoing mental health treatment whether that be in a public or private facility. Our adapted profiling care bed now offers a comprehensive solution for acute and non acute services that minimizes ligature risk and maximises patient safety without compromising comfort or functionality.
KEY FEATURES OF THE BED:
ENHANCED SAFETY: Rigorously designed with reduced ligature risk in mind, our bed features innovative anti-ligature hardware, tamper-resistant fixtures, and smooth edges, reducing the risk of self-harm incidents.
PERSONALISED COMFORT: Our bed offers a range of profiling options, including adjustable headrests, backrests, leg sections and height settings. Patients can find their optimal position for relaxation and therapeutic support.
DURABILITY AND QUALITY: Crafted from high quality materials, our profiling beds are built to withstand the demands of mental health environments while ensuring longevity and reliability.
SUPPORT FOR CARERS: Helping to streamline workflows with intuitive controls and smooth adjustments making light work of their duties.


Why is reduced ligature risk important for patients with complex Mental Health challenges?
Reducing ligature risk is crucial because it helps create a safe environment that minimizes opportunities for self-harm. By removing or modifying potential ligature points such as hooks, handles, rails or cables that could be used for injury, the risk of patients inflicting serious harm on themselves is significantly reduced.
Implementing reduced ligature risk measures involves careful architectural and environmental considerations. This may include using ligature resistant fixtures, anti-ligature hardware, tamper-resistant design and appropriate materials that all work to minimize the risks. For example the bed having rounded or smooth edges to discourage self-harm, effective cable management and lockable boxes to conceal essential operational items to outline just a few.
By implementing these measures, both public and private mental health facilities aim to provide a secure and therapeutic environment for patients, ensuring their safety while they receive treatment and support. Creating an environment that further contributes to the overall well being of mental health patients, promoting a sense of safety, and reducing the likelihood of self-inflicted harm, ultimately supporting the recovery process.
If your private care facility would benefit from this solution speak to our team to arrange a free evaluation.