Extending support to enhance comfort and care at The Lawns Nursing Home
Read our latest case study with Heritage Manor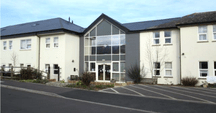 Our team worked in close partnership with Melanie Dawson and Rachel Kenyon of Heritage Manor to fit out their brand new extension at The Lawns Nursing Home with suitable profiling beds.
The Lawns has an excellent reputation for the quality of its nursing and palliative care tailored to the well-being of each resident and how their needs can continue to change over time. The provider also believe in true person-centred care and recognise the importance of looking after both emotional and physical well-being. A belief also strongly shared by wissner-bosserhoff and forming the basis of a truly aligned partnership.
We are thrilled to share an insight into the project with our latest case study that showcases the transformative power of collaboration and putting people at the forefront of all that we do.
The Case Study Outlines:
The journey undertaken to find a solution that added value, met interior goals and met budget

Not compromising on quality or functionality for the right design

The ability to support an array of care needs

What the team thought of their new equipment

How care delivery has been optimized

What efficiencies have been made
Uncover the full story: HERITAGE MANOR PDF CASE STUDY