The new universal low nursing bed sentida sc
As versatile as your needs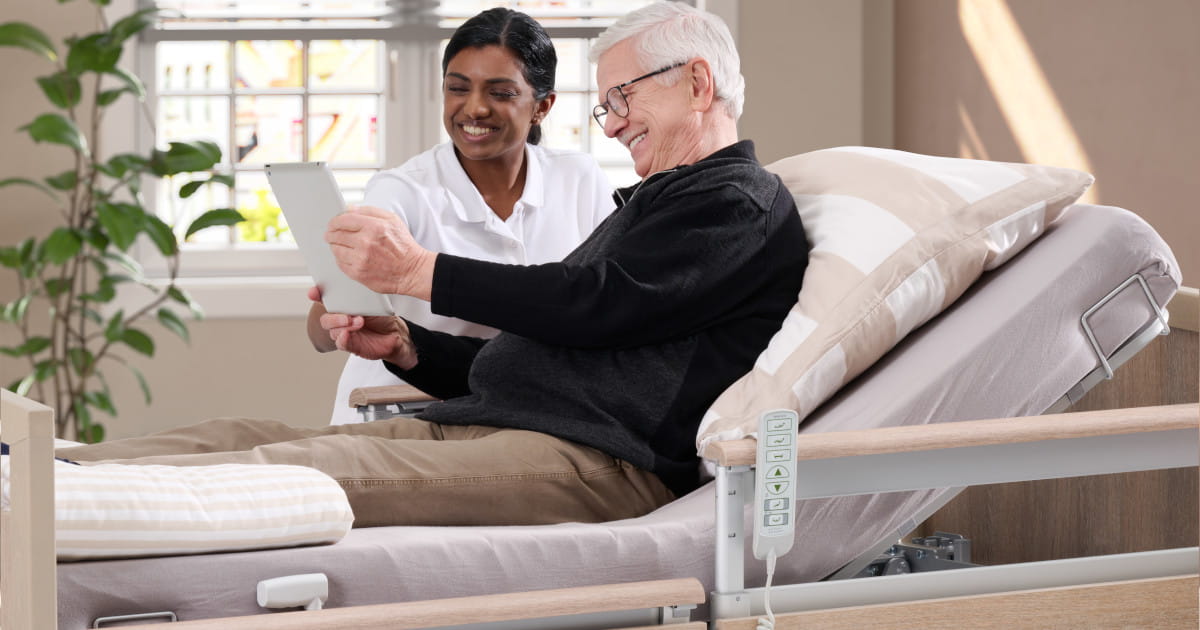 Thanks to medical and technical advances, people's life expectancy has been rising steadily for decades. The high age that many are already reaching today has a variety of effects. New concepts for living in old age are in demand. These include the desire to be provided for with more homeliness, individuality, security, comfort and flexibility in the furnishing of appropriate forms of living.

wissner-bosserhoff is aware of these demands and changes and has adapted to them as an internationally active company in the field of care. With the new bed platform sentida sc and customized concepts, the Wickede-based company can respond to the different requirements even more flexibly, efficiently and demand-oriented. The aim is to provide solution-oriented support for maintaining and promoting individual mobility as an overarching and essential goal in nursing care.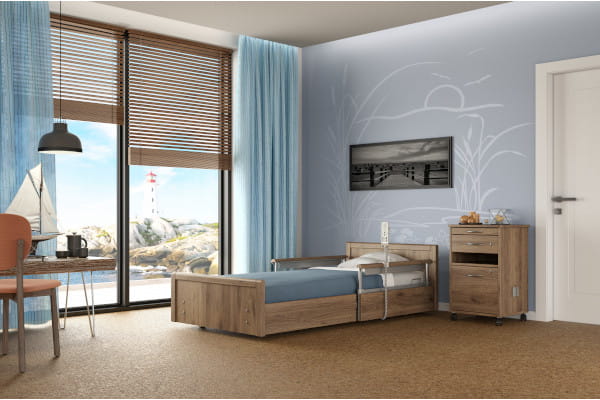 Individual mobilization
Individual mobility is of great importance to people. It is not without reason that the preservation and promotion of individual mobility, especially of older people, is a
core category of nursing care. Appropriate nursing measures make an important contribution to preventing the development of new functional impairments and health disorders that affect mobility.

There is no standard mobilization that helps every resident using the same techniques. Supportive, accompanying measures can therefore only ever be individually adapted to the respective situation and person. The universal low-level nursing bed sentida sc from wissner-bosserhoff is designed in such a way that its equipment can be adapted to different needs and specific requirements.

For example, with the tried-and-tested SafeFree® side safety concept, which is optimally suited for getting out of bed thanks to its partitioning, thus providing a safe aid for getting up - alone or with support. With the new SafeControl® handset, the bed can be easily moved to the desired mobilization position. The hand control is intuitive to operate and, thanks to the motion sensor technology with backlighting, it is easy to read even in the dark.

Safe sleeping

Nursing home residents have an increased risk of falling. Often, falls are even accompanied by injuries that require treatment. But even in the case of less serious falls, the healing process is often protracted, and self-confidence in one's own abilities declines. In addition, there is the fear of falling again (so-called fear of falling or fear of falling). This can often be more stressful than the fall itself.

The darkness also makes it more difficult to find one's way around the room, to estimate distances, and to keep one's gait steady. In order to break this cycle, targeted and needs-oriented efforts should be made to strengthen self-confidence and thus prevent fear of falling, as well as to provide optimal support for physical resources.

sentida sc from wissner-bosserhoff offers solutions that take into account different degrees of care, individual possibilities and abilities of elderly residents with the help of sustainable and conceptual equipment options around the care bed. For example, the low position of the new bed platform offers residents the opportunity to sleep safely without restricting their personal needs. Various bed-exit assistance systems can signal caregivers that the resident has left, or is about to leave, the bed. This allows falls to be detected earlier than through routine checks.
Digitizing professionally

Experts see the digitization of care for the elderly as a major opportunity that can relieve the burden on nursing staff by means of technical innovations. Through the targeted use of sensors, for example, potential risks of falls and poor movement patterns among residents can be detected and reported at an early stage. The use of mobile devices also enables mobile and agile work with time savings.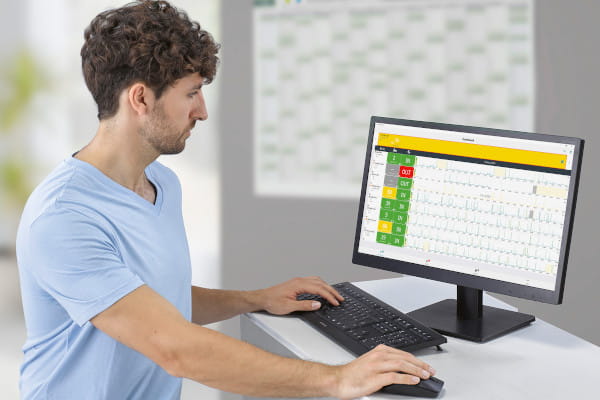 Specialist knowledge and information on care topics can be accessed more quickly and from any location. Social relationships with each other, but also with relatives, can be better maintained without great effort. Workflows can be designed even more efficiently if care facilities systematically evaluate and merge the data from their digital documentation.

wissner-bosserhoff is currently focusing on three areas and the associated risks for residents: Falls, pressure sores and incontinence. The digital care assistant SafeSense® 3 can help to analyze the relevant data and take preventive action if necessary. The data from the care assistant can be called up clearly on a smartphone, tablet or PC via an app.
Care needs digitization - functional, intelligent and dignified.