Innovative concepts guaranteed
wissner-bosserhoff products offer more than the average nursing home bed, bedside cabinet, or mattress.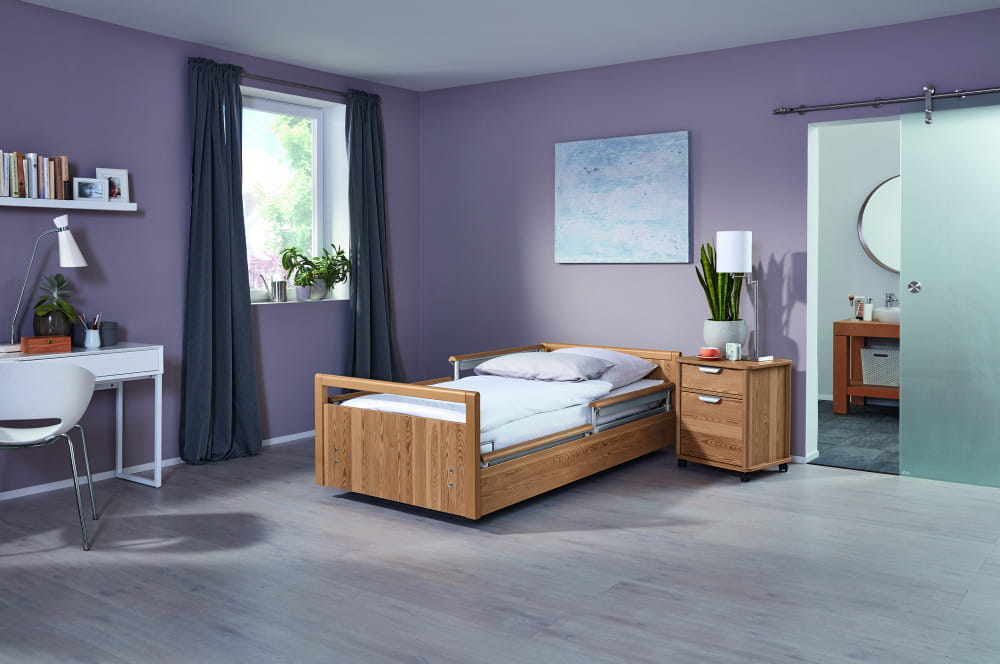 wissner-bosserhoff products offer more than the average nursing home bed, bedside cabinet, or mattress. wissner-bosserhoff uses its comprehensive market knowledge to pinpoint, develop, and offer additional benefits for the user. As the safety of residents and nursing staff takes first priority,
fall prevention is one of the most important tasks in nursing care.
Falls pose an increasing, overall risk as residents grow older. Statistically speaking, 30% of all people above 65 fall at least once a year. Among people above 80, this figure increases to almost 50%. The percentage of people at risk of falling is even higher in nursing homes. More than half of the residents fall at least once per year according to statistics. Of course, not every fall automatically causes injuries. Only about 10% of all falls lead to injuries that require medical treatment. But even a fall that does not cause an injury can lead to anxiety and social withdrawal.
wissner-bosserhoff has developed various solutions that contribute to effective fall prevention. SafeSense®, for example, is a revolutionary bed exit solution that reduces the need for side guards at night and is therefore recommended as a measure to improve the residents' freedom and contribute to their well-being. SafeSense® is equipped with an automatic night light to help the resident find the way to the restroom, for example. The night light is automatically switched on when the resident leaves the bed and is switched off when he returns. Moreover, the intelligent bed exit system is equipped with a flexible nurse call timing system that alerts the nursing staff after a determined time interval according to the resident's individual mobility. This significantly helps nurses react to falls more quickly.
Active and safe mobilization is essential for care-dependent people
People who are confined to their bed have limited mobility. However, movement and mobility have a positive and preventive effect on patients under nursing care. Quick mobilization (early mobilization), for example, can reduce the risk of post-surgical complications. The risk of falling cannot always be avoided when mobilizing residents in nursing care - this is particularly true for residents who suffer from dementia.
wissner-bosserhoff has developed various mechanisms that help the resident move independently on the one hand and make it easier for the nursing staff to assist in mobilization on the other. Mobi-Lift® is the best example. This accessory has proven to be an effective mobilization aid in everyday nursing care for many years, which is why it will now also be used in the special nursing home bed sentida 7-i. The resident can fold out Mobi-Lift® himself and use it for mobilization. The height can be adjusted with a button that is integrated into the knob of the handle. This makes both autonomous and supported mobilization easier for the nursing staff.
Higher risk of bedsores in nursing homes
Pressure ulcers are very unpleasant and straining for care-dependent people. Not only do they suffer from severe pain, but they also withdraw themselves from social life. It is not uncommon for people affected by this to suffer from depression. Therapies usually take several weeks or months and may cause further discomfort. That's why bedsores should be avoided altogether wherever possible by taking preventive measures. For this purpose, wissner-bosserhoff uses a BiNetic patient surface in all its nursing home beds.
The ergonomic division of this patient surface helps prevent pressure points and therefore contributes to reducing the occurence of bedsores. The dimensions of the 4-part patient surface of wissner-bosserhoff nursing home beds are based on anthropometrics, i.e. on the average size and height of a person. The BiNetic patient surface has a double retraction mechanism. This means that not only the backrest, but also the leg rest is located further away from the seat section, resulting in a larger surface and in turn drastically reducing pressure.
Nursing homes are often not prepared for obese residents
In Western civilization, an unhealthy diet most frequently leads to obesity. Nowadays, obese residents are no longer an uncommon sight in nursing homes. All this leads to the need for special care and therapy equipment for adipose residents: Aids such as beds and wheelchairs have to be suitable for the weight and size of the resident, basic care takes longer and some nursing tasks such as repositioning may require the assistance of an additional employee or other aids.
With the carisma 300-xxl, wissner-bosserhoff combines its customary design with high functionality to improve care for these residents. It offers a safe working load of 300 kg with a maximum resident weight of up to 270 kg. The extra-wide 120 cm xxl patient surface ensures that the resident has more space and freedom of movement than in the average bed. This prevents pressure marks on the extremities. The powerful motors to adjust the bed height, backrest and leg rest notably reduce the strain on the staff. Electrical adjustment features provide for the individual comfort of the people in need of care and enables them to sit up safely.