"St. Marien" retirement home in Ratingen chooses SafeSense®
In this interview, retirement home manager Horst Ramm explains what motivated him to this purchase.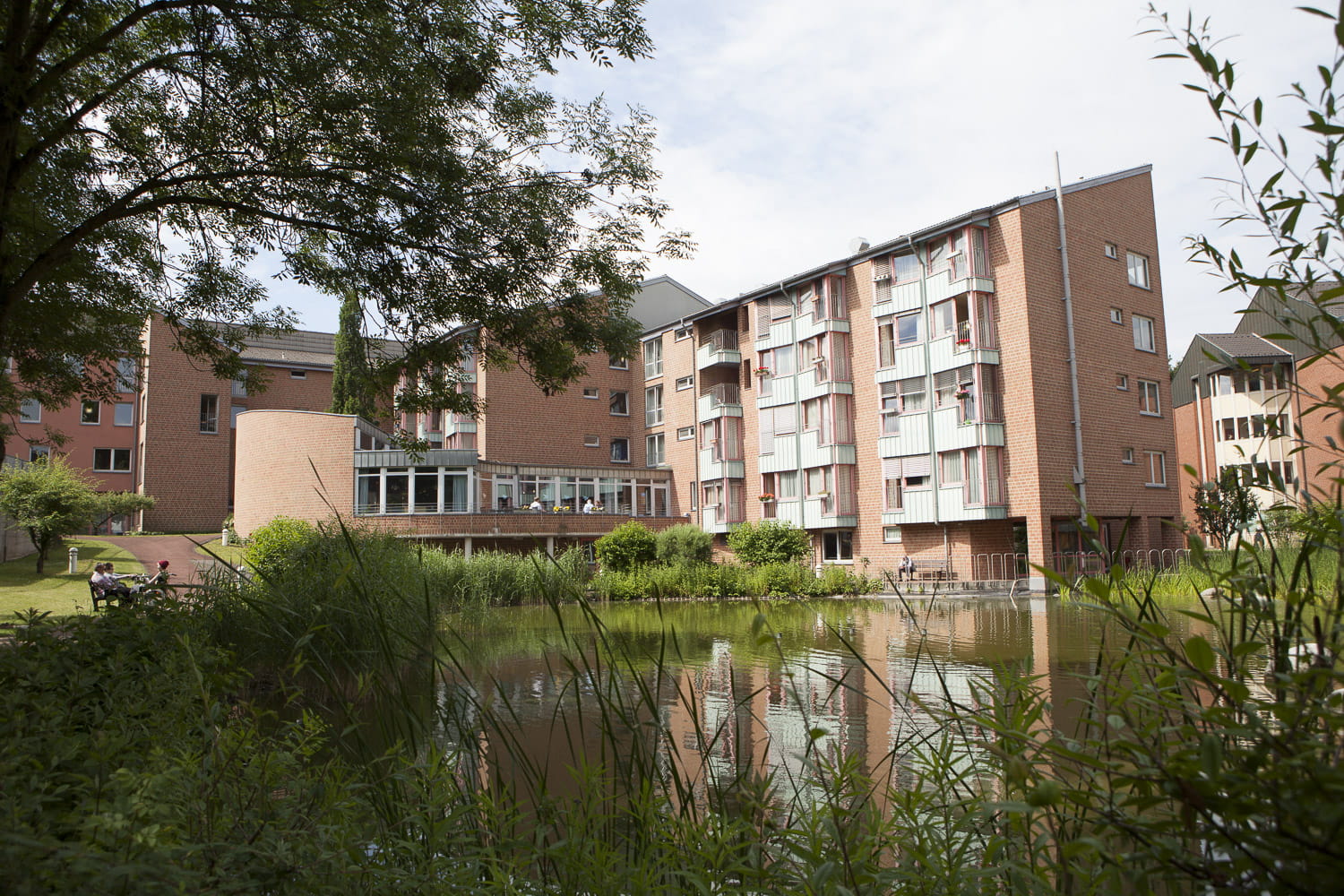 With its 600 employees, the St. Marien hospital in Ratingen, near Dusseldorf, Germany, is one of the biggest employers in its region. Recently, it decided to refurnish its retirement homes with the low nursing bed sentida 5 and to combine it with the intelligent bed exit assistant SafeSense®. A total of 102 of these units will be delivered to this renowned institution in May/June this year. In the following interview, retirement home manager Horst Ramm explains what motivated him to this purchase.
wissner-bosserhoff: Aside from two retirement homes, your company also runs a hospital and a medical center. From your point of view, what makes this special and what kind of residents are in both retirement homes?
Horst Ramm: The "St. Marien" and "Marienhof" retirement homes are located within a park in the very heart of the city center of Ratingen. Naturally, our residents benefit greatly from this central location, particularly in regards to medical care. The residents in both retirement homes are very different. The main focus of our retirement center is residence. Our St. Marien retirement home, on the other hand, focuses on nursing care, specializing in dementia and palliative care.
You chose the nursing home bed sentida 5 with the assistance system SafeSense® by wissner-bosserhoff. Which areas of your institutions are these beds being used in and which factors influenced your decision to purchase this model?
The low nursing bed is being used in both of our institutions. Visual appearance played a role in our decision, because we also wanted it to fit well into residential rooms. Another decisive factor were the technical options or features of the bed, such as divided side guards or the intelligent underbed light, which contribute to the residents' comfort and significantly helps minimize the risk of falling. It was a conscious decision to equip all our nursing home beds with this trendsetting feature.
What kind of role do topics such as fall prevention or freedom-depriving measures play for you?
Since 2014, we have dedicated much time and energy to theories on reducing freedom-depriving measures such as the "Werdenfelser Weg" and the "ReduFix" approach. In a comprehensive project group, we developed a concept for both of our institutions, aiming to avoid freedom-depriving measures. At the same time, we have also put our focus on fall prevention. Buying low nursing beds is one of these measures.
Side guards such as SafeFree® by wissner-bosserhoff are mentioned in the guidelines of the "Werdenfelser Weg" as an optimal way to avoid freedom-depriving measures. Did this assessment by legal experts also play a role in your decision?
This expert opinion supported our decision. What really convinced us was the aspect behind this legal assessment. In practice, using side guards means double-checking every individual bed to see if they are really necessary. This check is just unavoidable if you use side guards. This is the big advantage we see here.
What kind of goals do you associate with lockable side guards and what kind of experiences have you had with them among your residents and nurses?
Using side guards has shown that the question whether such measures are sensible and appropriate comes up much more often among employees, residents or their relatives and nurses in everyday situations. Generally speaking, the awareness for questions regarding self-determination and the problem of using freedom-depriving measures to prevent falling has gone up. It is important to have an option available at all times that ensures the absolute safety of our residents.
wissner-bosserhoff presents a revolutionary bed exit solution with SafeSense®, which helps improve the safety level of nursing institutions by day and night. Decisive in its development was reaching the highest possible safety level based on a detailed analysis of potential risks. SafeSense is equipped with an automatic night light which helps the resident find the way to the restroom at night, for example. The night light is switched on automatically when the resident leaves the bed and is switched off when the resident returns. In addition, the intelligent bed exit system is equipped with a flexible nurse call timing system that alerts the nursing staff after a determined interval depending on the resident's individual mobility. The signal can be set from 0 seconds for vulnerable residents to up to 30 minutes for more mobile residents who can go to the restroom during this time interval without setting off an alarm. SafeSense® is compatible with customary nurse call systems in the market.