Washable hospital bed image 3-w receives German Design Award
After the product was already awarded the Plus X Award "Best Product of the Year", the IF Award and the M&K Award this year, it can now adorn itself with one of the most renowned design awards. Thereby, it also received the "Special Mention" distinction as the bed represents a particularly successful solution in its product category in the opinion of the jury.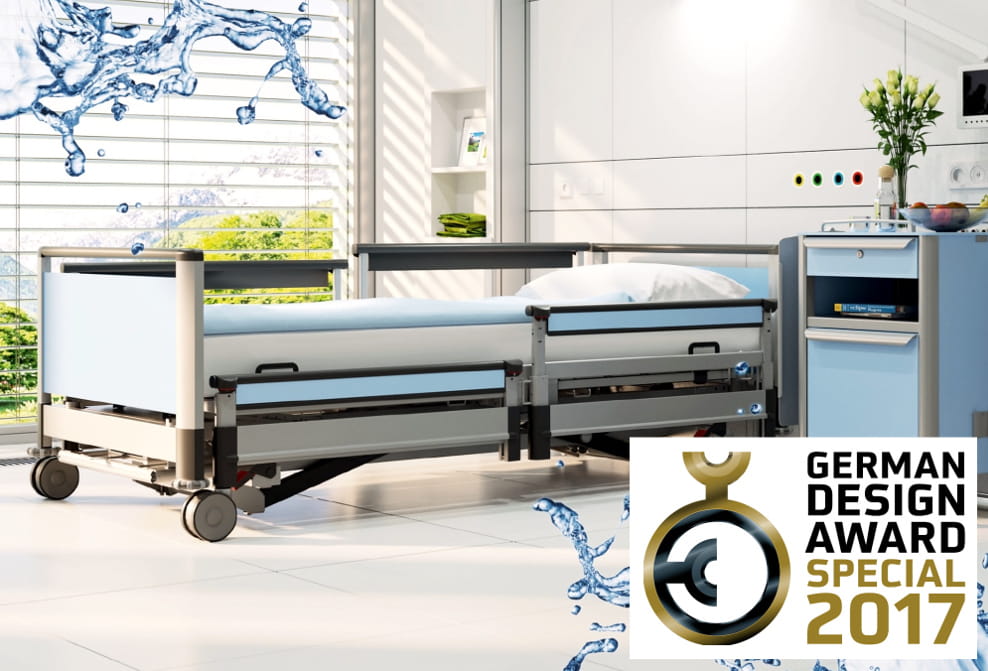 The image 3-w has been specially developed for effective cleaning in washing facilities and decontamination centers. Thanks to an intelligent product design, the hygiene requirements in hospital routines can be sustainably improved and simplified in this way. The clean design of the undercarriage and bed, which is free from troughs and dips, enables optimal drying after cleaning and disinfection. Apart from optimal washability, a great deal of focus is placed on aspects such as fall prevention and mobilization support. Innovative, successful solutions were adopted for the image 3-w, including the patented SafeFree® side guards, which can be quickly and easily positioned in just two seconds per side guard and have been tried and tested on over 300,000 hospital beds.
The central fifth transport castor is particularly user-friendly and time-saving; it not only makes it significantly easier to maneuver beds in small patient rooms, but also means that transport between the ward and the operating room by a single person can be mastered seamlessly.
"We are very proud after 2016 to have already been given this renowned Design Award for the second time. The image 3-w is a successful example of how development, designers, product management and marketing in our company cooperate successfully. The washable low hospital bed is in line with our philosophy of creating innovations with sustainable added value for hospitals", says Uwe Deckert, Head of Product Management and Marketing, about the brilliant achievement.
The German Design Award is the international premium award of the German Design Council. Its objective is to discover, present and award unique design trends. Awards are made each year for top class achievements from product and communication. Each of them influences the international design scene in its own way. The German Design Award, which was initiated in 2012, ranks amongst the most renowned design competitions across the world and is held in high esteem far beyond the circles of experts. The Special Mention distinction is awarded for work whose design shows particularly successful partial aspects or solutions – an award that recognizes the commitment of companies and designers. Due to the unique nomination process, only products and communication designs that are demonstrably outstanding in their creative quality are invited to participate. The award will be given in February 2017 at the trade show "Ambiente" in Frankfurt am Main.