tom 2 – The Newest Generation of Children's Bed
The new bed offers maximal safety and unhindered access to the patient.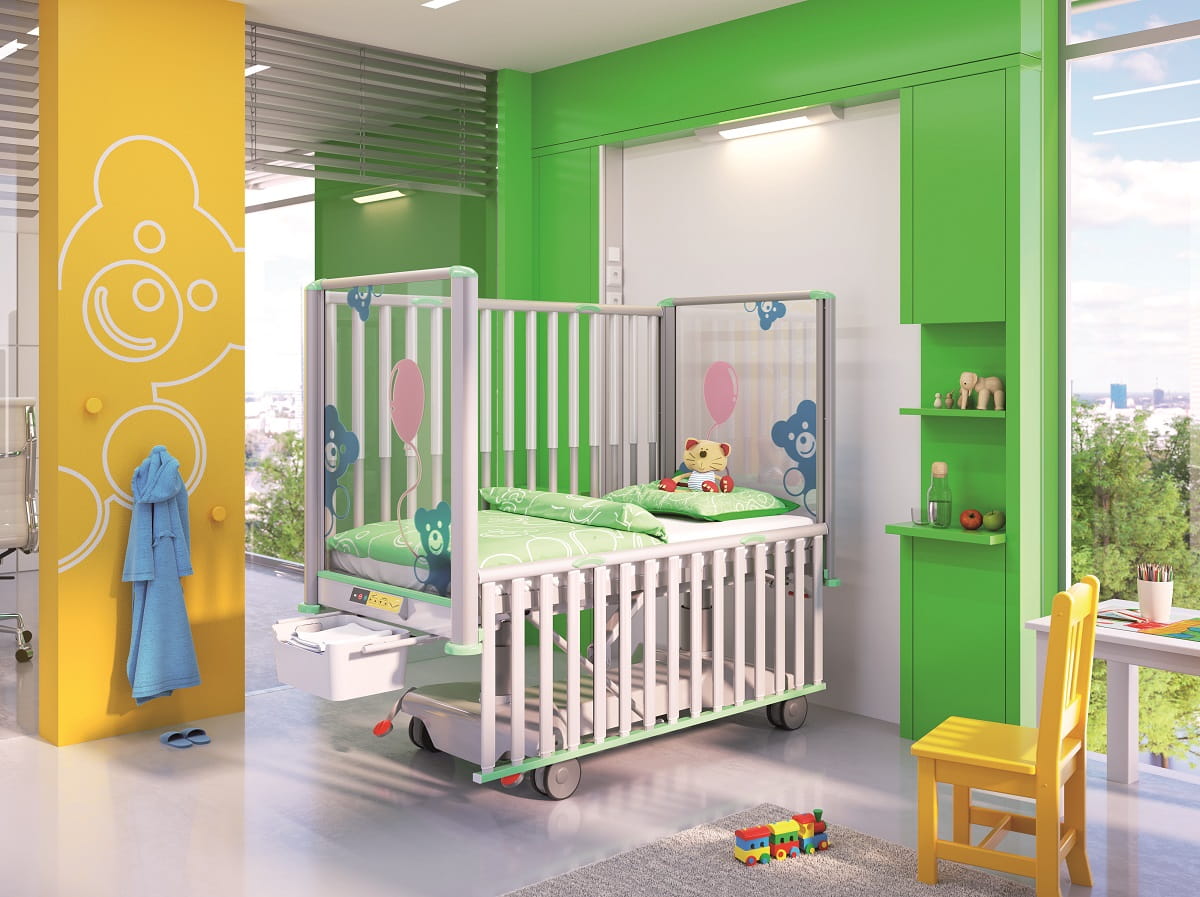 Modern children's beds for preschool-age patients should not only be safe, but also easily accessible for the nursing staff. The new, electrically adjustable children's bed from wissner-bosserhoff meets these and many other requirements placed on children's beds by hospitals and patients alike. The newest generation of children's bed offers many new features. Thanks to optional versions, tom 2 is also ideal for use in the intensive care unit.

A particular innovation is the unique concept of telescopic side guards, which ensure optimal access to the patient at all times. The side rails can be adjusted in three levels from 0–80 cm. In the lowest position, the rails are positioned below the mattress providing nursing staff with unhindered access to the patient. The central position at 40 cm offers the child a good view from the bed, and the highest position at 80 cm guarantees maximum fall protection. Staff will find side rail adjustment easy, quick, and ergonomic. Two handles are fitted to the top hand rails for locking and adjustment. This two-hand principle eliminates the risk of inadvertently engaging the side rails.

The height adjustment of the tom 2 is fully electric. The integrated control element is used to adjust the height of the bed, the angle of the backrest, and the Trendelenburg positions. The safety concept of the GO button prevents the bed from being accidentally adjusted because the GO button must be activated first before adjustments can be made. The unique height adjustment using the patented lifting column construction of 58–83 cm allows both a safe patient stay and ergonomic nursing position.

The tom 2 stands out with an appealing design featuring clean lines, modern materials and fresh colors. The bed ends have large, transparent surfaces and allow for a good overview of the bed. These surfaces can optionally be decorated with child-friendly motifs of bears. The tom 2 is available in two appealing colors and provides a pleasant atmosphere for its young patients.