Active Seniors – The new wissner-bosserhoff portrait calendar has come out
Wickede, December 2014 - Sport is this year's theme for our calendar series "Homage to Life." During research and the photo shoots we noticed one thing: Whether in the water, ashore or in the air – our seniors are unstoppable! René Schwerdtel, photographer from Cologne, managed to do a great camera profile on all the different sportsmen and women.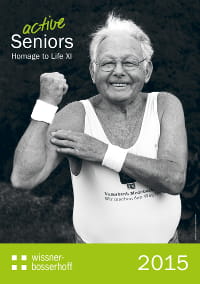 From the ambitious individualist to the social team athlete, the portraits capture the moment, showing the beholder what gets the senior citizens in motion.
Active Seniors is the eleventh calendar in the successful series "Homage to life." Every year, new and impressive portraits of seniors emerge and develop a large fan base in the nursing care industry but also amongst individuals.
"We are very proud of our 'Homage to life' portrait calendars," says Uwe Deckert, Head of Marketing and Product Management. "The media mostly shows only the negative side of old age, such as dementia or the current nursing crisis. With this calendar, we set ourselves the goal of adding new and positive facets to this imagery. Every year, the fantastic feedback that we receive reaffirms our enthusiasm for this unique project."
By the way: The theme for the next edition of the portrait calendar has already been chosen!
"Homage to life XII" will portray seniors conducting their hobbies.
We are therefore looking for some elderly folk with interesting leisure activities.
Do you know someone who could feature in it? If you do, then write to us before 3/31/2015, as we're looking for seniors aged 80 and above who would like to take part in the portrait calendar 2016 project. It's worth the effort. The photo shoot is always a great experience for all parties involved.